Jammu
DC Ramban reviews ICDS sector, applauds progress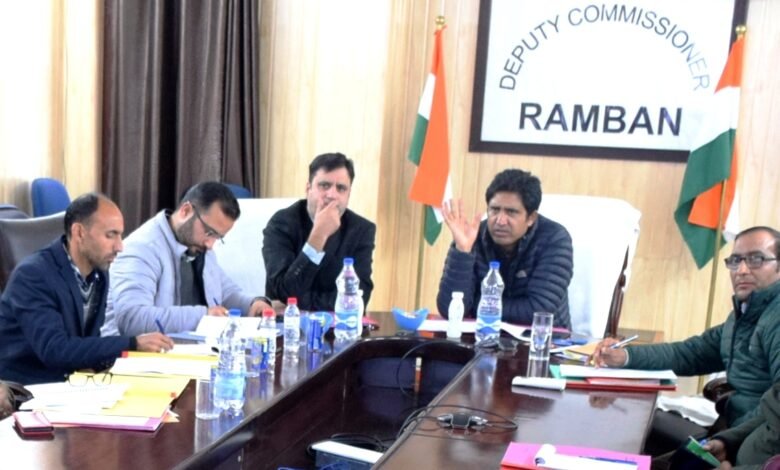 Deputy Commissioner, Ramban, Baseer-Ul-Haq Choudhary today conducted a meticulous review of the Integrated Child Development Services (ICDS) sector in Ramban District. The review encompassed a thorough evaluation of ongoing schemes and initiatives geared towards enhancing the well-being of beneficiaries, with a specific focus on women and children.
Highlighting the district's prowess, PO ICDS, in a detailed presentation, said that Ramban's ICDS projects are taking lead in implementation, beneficiary care, and overall outcomes.
Notably, the district secured the top rank on the Poshan tracker, surpassing all others in the Union Territory in recent months. This achievement follows a commendable ascent, with Ramban jumping from the 19th position to clinch the leading rank in implementation of parameters in just six months.
The ICDS infrastructure in the district boasts 802 functional Anganwadi Centres, strategically distributed between 771 rural and 32 urban centres. To ensure effective monitoring, all 802 centres have been geographically tagged. The district benefits from a robust workforce, with 715 Anganwadi workers and 756 Anganwadi helpers actively contributing to the cause. A recent recruitment drive further fortified the team, bringing in 65 Sanginis (AWWs) and 68 Helpers (AWHs).
In terms of beneficiaries, a total of 23,708 individuals, including 2,179 pregnant and lactating women, are registered, with 22,163 Aadhaar verifications completed.
The district's ICDS initiatives adopt a three-pronged focus, encompassing nutritional support for beneficiaries (SNP), early childhood care and education (ECCE), and enhanced healthcare for children and women.
Critical to the success of these endeavors are the capacity-building initiatives undertaken. All Anganwadi workers have received training in early childhood care & education, technological tools for monitoring, and an emphasis on nutrition and health tracking.
The Deputy Commissioner commended the progress and achievements of the ICDS sector in Ramban. During the review meeting, he directed the ICDS authorities to maintain a continuous follow-up on malnourished children and women, ensuring prompt tracking and implementation of corrective measures. The Deputy Commissioner reiterated his commitment to prioritizing the well-being of the community, particularly the vulnerable sections.