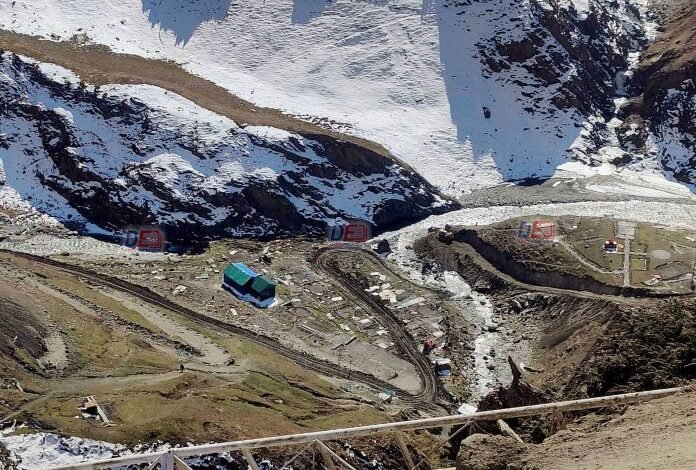 SRINAGAR, NOV 6 (UNI):- Border Roads personnel created a history with the first set of vehicles recently reaching the holy Amarnath cave. The Border Roads Organization, tasked with the road widening work on the Amarnath cave routes, announced the completion of the formidable task. UNI PHOTO-35U
Srinagar, Nov 6: In a first, vehicles have reached the Amarnath cave as the Border Roads Organisation has expanded road connectivity up to the cave shrine in Jammu and Kashmir, officials said here on Monday.
The widening of the road from Dumail to the Amarnath cave via Baltal base camp in Ganderbal district of central Kashmir has been completed, the officials said.
They said the Border Roads Organisation (BRO) personnel completed the formidable task and created history by expanding road connectivity up to the Amarnath cave shrine.
The first set of vehicles has also reached the shrine, the officials added.
The BRO was entrusted with the responsibility of maintaining the twin tracks leading to the cave shrine last year.
The BRO's 'Project Beacon' is involved in the restoration and improvement of Amarnath Yatra tracks.
Earlier, the J-K government's Public Works Department (PWD) was maintaining the Baltal route in the Ganderbal district and the Pahalgam Development Authority (PDA) maintained the Pahalgam route in the Anantnag district.
The UT administration in September last year handed over the tracks to the BRO for maintenance and upgradation.
The BRO undertook the road widening project to ease the difficulties faced by the pilgrims who traditionally had to travel to the cave shrine on foot.
With the motorable road reaching the Amarnath cave shrine, the pilgrimage would become more accessible and comfortable for the devotees, the officials said.
However, the People's Democratic Party (PDP) criticised the move calling it the "biggest crime" committed to the faith of Hindus.
"This is not history, it's the biggest crime one can commit to Hinduism and its faith in nature. Hinduism is all about immersing in spiritual mother nature, that's why our pilgrimages are in the lap of the Himalayas," PDP spokesperson Mohit Bhan posted on X.
Bhan said turning religious pilgrimages into picnic spots for "mere political gains" is worth condemnation.
"We have seen the wrath of God in Joshimath, Kedarnath and yet we are learning no lessons instead inviting a catastrophe in Kashmir," the PDP leader said.
The BJP's J-K unit hit back at the PDP saying laying of the concrete road up to the holy cave shrine is being done after proper Environmental Impact Assessment and no trees have been cut.
"With the shrine of Baba Amarnath, lakhs of people have their faith. PDP by opposing and finding faults in the road stretch is trying to repeat the 2008 land row, but people are wise enough and won't fall prey to politics of deceit again," the BJP's J-K spokesperson Altaf Thakur said in a statement. (Agencies)