Kashmir
Hailstorms damage fruit crop in several areas of Kashmir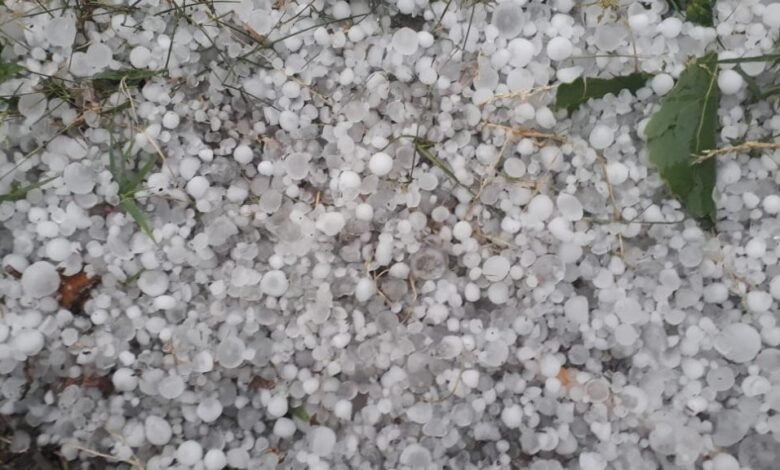 Growers appeal to govt for crop insurance scheme
Srinagar : Hailstorms in the last few days have caused damage to fruit crops in different areas of Kashmir, prompting growers to once again appeal to the government for a crop insurance scheme.
The heavy hailstorms have damaged fruit crops in Harwan and Fakir Gojri areas of Srinagar besides parts of Shopian, Handwara, Sopore, Srigufwara and other areas in the past few days.
Growers from different areas of Kashmir told news agency—Kashmir News Observer (KNO) that there has been extensive damage in their orchards for the last three consecutive years due to untimely snowfall, hailstorm and other climactic events.
They said every year they are suffering damages worth lakhs of rupees but getting compensation of just a few bucks.
Nazim Ahmad, a grower from Shopian, said that untimely snowfall and hailstorms in the last three years have caused such severe damage to his orchards that the fruit bearing capacity of trees has decreased.
He said that orchardists for the last three years have been spending all their earnings on expenses of fertilisers and labour for their orchards.
He added that there is a need for a crop insurance scheme so that if growers face any damage, they at least get 50 percent of it back.
Bashir Ahmad, a fruit grower in Dachnipora area of Anantnag, said that in the last three years he has lost trees and fruits worth lakhs due to untimely snowfall and hailstorm besides other calamities, and if there would have been a crop insurance scheme, he would have at least received some compensation.
He said that growers are ready to pay for insurance on yearly basis if government brings in a crop insurance scheme.
Growers said that the government should also waive off the interest on loans taken by them in areas which have been hit by hailstorm.
It is pertinent to mention here that about 60 percent of the population in Kashmir is directly or indirectly dependent on the horticulture sector.
President of Kashmir Valley Fruit Growers and Dealers Association and New Kashmir Fruit Association, Bashir Ahmad Bashir told KNO that there are reports of damage due to hailstorm from different areas of Kashmir and the need of the hour is a crop insurance scheme.
He said that in this regard growers have met union ministers and other high ranking officers, who assure that the scheme will be approved but they have failed to take any step to do so.
"We have also requested J&K Bank to come up with some scheme in this regard, but they, too, have failed to deliver," he said—(KNO)