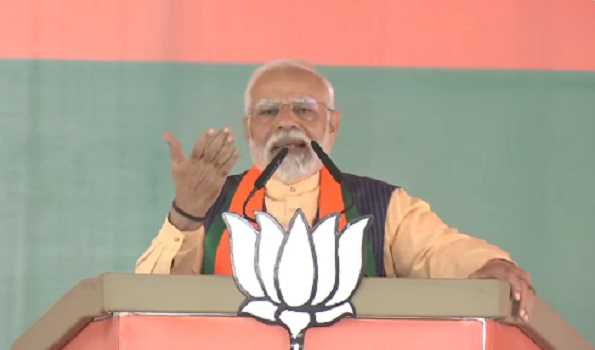 Betul (MP), Nov 14 (UNI) In a decimating, sarcasm-laced and vitriolic assault against erstwhile Congress President Rahul Gandhi; Prime Minister Narendra Modi asked on Tuesday, "Arre moorkhon ke sardar, kis duniya mein rehte hain? (O chieftain of fools, which world do you exist in?)".
The Prime Minister's comment came a day after Mr Gandhi said during a rally in Neemuch, "Behind every cellular phone or shirt and under each shoe one reads the words 'Made in China'."
Addressing a public meeting in this district of election-bound Madhya Pradesh, the Prime Minister did not name the Congress bigwig while averring, "I heard yesterday that one 'mahagyani' of the Congress was saying that everyone in Bharat possesses 'Made in China' mobiles. I have no inkling as to which foreign-brand spectacles he wears that prevent him from seeing the country's situation. Congress bigwigs are suffering from the psychiatric disorder of being unable to observe the nation's achievements."
The Congress is flying so high in the air that it simply does not see any impoverished individual on the surface and is unaware of the ground reality, Mr Modi said.
"What is the truth? Today, Bharat is the world's second-largest cellular phone manufacturer. When the Congress was in the saddle at the Centre, less than Rs 20,000 crore worth of mobiles were made per annum. The present figure exceeds Rs 3.5 lakh crore, and we are exporting approximately Rs 1 lakh crore worth of such devices. Those who remember 'Make in India' only during poll time can never comprehend the importance of swadeshi. The entire country is becoming 'vocal for local'," the Prime Minister underlined.