Kashmir
Police solves theft case in Ganderbal; 02 arrested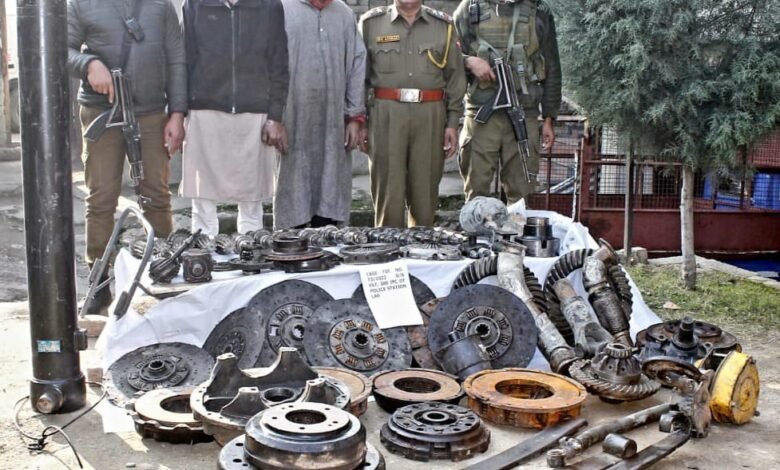 Stolen items worth lacs recovered
November 15: Police in Ganderbal have solved a theft case by arresting 02 accused persons involved in the commission of crime and recovered stolen property from their possession.
On 11/11/2023, Police Station Lar received a written complaint from one person namely Farooq Ahmad Ganie son of Gh Nabi Ganie resident of Kurhama Ganderbal stating therein that during intervening night of 8/9-11-2023, some unknown thieves have stolen spare parts worth lacs from his Warehouse located at Benhama Lar.
Accordingly, a case vide FIR No. 73/2023 under relevant sections of law was registered at Police Station Lar and investigation was set into motion.
On the directions of SSP Ganderbal Shri Nikhil Borkar-IPS, a special police team was constituted under the supervision of DySP Hqrs Ganderbal Shri Gh Hassan-JKPS led by SHO PS Lar. After strenuous efforts and with the help of technical inputs, the police party apprehended one suspected person namely Nadeem Khan son of Wajid Khan resident of Braeli UP. During questioning, accused Nadeem confessed that he alongwith Mohd Rafiq Kanna son of Mohd Yousuf Kanna resident of Sher Colony Sopore have stolen spare parts from the warehouse. Both the accused persons were arrested and upon their disclosure, stolen spare parts worth about Rs/-939824.08 have been recovered. Subsequently, they have been shifted to police station where they remain in custody.
Community members have lauded the efforts of police for cracking/solving the case. Our consistent actions shall assure community members that Police have resolved to act tough against individuals involved in any kind of criminal activities.