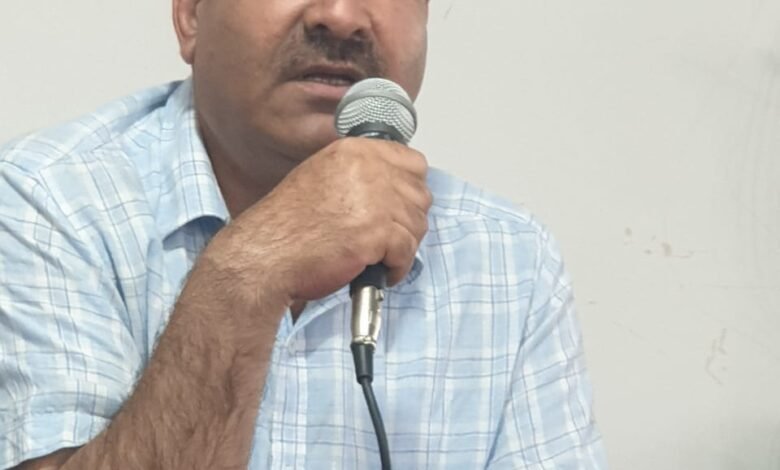 Srinagar : JK Employees Joint Action Committee (EJAC) has expressed displeasure and anguish on the delay in regularisation of CIC operators working in Rural Development for last two decades.
In press statement President EJAC Mohd Rafique Rather said that
CIC operators appointed by competent authority through a transparant process have been waiting for the regularisation of their services since last two decades, despite completion of all codal formalities"
Rather said that These CIC operators were appointed by District Level Recruitment Committee headed by concerned Deputy Commissioners and since then they are continuously working in Department of Rural Development Panchayat Raj, J&K on contractual basis on a meager amount of Rs 10,000/= as monthly salary, due to which they are facing a lot of hardships to feed their families and to provide better education to their children during this sky-high market inflation period and added that They are highly qualified having M.Tech, MCA, M.Sc.IT, B.E & B.Tech Degrees and are technically very sound who handle efficiently more than 26 web portals on daily basis of Department of Rural Development & Panchayati Raj. Besides all other office assignments viz-a-viz elections, establishment, accounts, works etc. at Block/District/Directorate/Secretariat level.
President EJAC said that
In the year 2014, Jammu & Kashmir Government passed an order in Cabinet to formulate a proposal for the regularization of CIC Operators in the Rural Development Department. In the year 2016, Jammu & Kashmir Government through a cabinet decision created 172 posts of Data Entry Operators for regularization of CIC Operators vide Govt. Order No. 320-RD & PR of 2016 dated14.12.2016. That in the year 2017, the Empowered Committee of J&K Government headed by Principal Secretary, Department of Finance cleared their regularization cases one by one for regularization under J&K Civil Services (Special Provision) Act 2010 in its two meetings viz. 58th Meeting dated 22.03.2017 & Meeting dated 12-10-2017 and also communicated their recommendations to Rural Development Department for issuance of formal regularization order, which are yet to be issued. CIC Operators regularization case has also got clearance from Department of Law , Justice and Parliamentary Affairs, J&K and Advocate General of J&K . Rather said that on the directions of GAD file was again forwarded to Finance Department in the year 2019 for its final views regarding the regularization of 172 CIC operators and the Finance department reiterated their earlier decision to absorb these CIC operators as Data Entry Operators with immediate effect. Pertanantly in the year 2021 GAD (General Administration Department) proposed that the regularization issue of the CIC Operators of RDD will be settled by newly reconstituted Establishment-Cum-Selection Committee for which a Circular was issued by GAD to submit the requisite information. In reference to this circular, complete information has also been submitted to GAD by Department of Rural Development & Panchayati Raj for conducting meeting of the said committee but no action has been taken in the matter so far.
Rafique Rather expressed surprise on delaying tacts despite clearance and approval from competent authorities and said that such injustice can not be tolerated any more and added that EJAC will launch a protest in favour of grieved CIC operators who have been denied justice and are victim of official apathy and redtapism.
Rafique Rather urged upon Shri Manoj Sinha Ji , Hon'ble Lieutenant Governor of Jammu & Kashmir and worthy chief secretary to intervene personally into this serious matter and provide justice on priority basis to these CIC Operators working in Rural Development Department, who are suffering very badly since last 18 years.