Kashmir
Multimedia
Lt Governor chairs a high-level meeting to review the developmental scenario in Budgam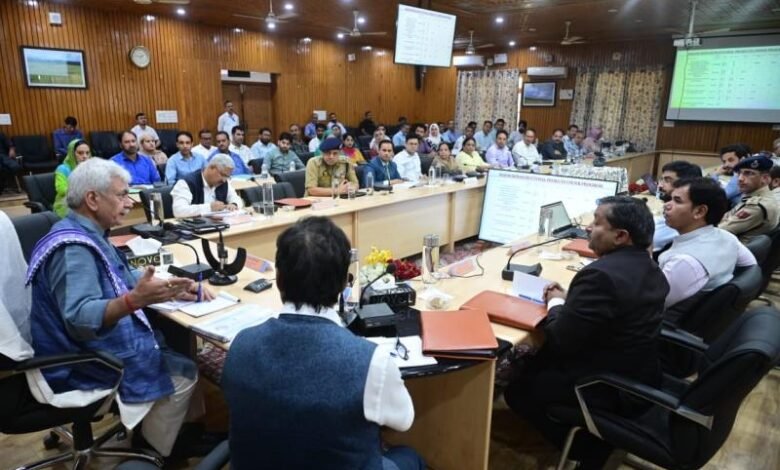 BUDGAM, SEPTEMBER 18 : Lieutenant Governor Manoj Sinha chaired a high-level meeting earlier today to review the developmental scenario in the Budgam District.
The Lt Governor appraised the sector-wise implementation progress of Centrally sponsored and the UT Government schemes and the developmental projects in the district.
The Lt Governor directed the district administration to explore new opportunities for Private investment in the hospitality sector to provide a boost to tourism and to facilitate new industries.
Youth engagement and Education are another two key sectors which require dedicated focus by the district officials, the Lt Governor observed while directing the Education department to prepare a roadmap to bring male-female literacy rate at par. The Banks were directed to provide necessary financial assistance for employment and livelihood generation programmes for youth and women.
He further emphasized on promoting Farmers Producers Organisation and exploring avenues for Cooperatives in all the sectors.
The Lt Governor impressed upon the officers to adopt a proactive approach and make dedicated efforts to identify the eligible beneficiaries under PM Vishwakarma and other such schemes.
The Lt Governor also sought the progress of Transit Accommodation for the employees in Budgam, and passed explicit direction for the completion of the project by October 2024.
The meeting also discussed the arrangements being made by different departments in view of Gandhi Jayanti. The Lt Governor called for active participation of officials and every section of the society in all the events.
Sh Akshay Labroo, Deputy Commissioner Budgam gave a detailed overview of the development scenario in the district.
He also apprised the Lt Governor on the progress made under Nasha Mukt Abhiyaan, Jal Jeevan Mission, Multi Dimensional Poverty Index- Ambitious Plan, Restoration of Heritage Sites etc.
The chair was apprised that 8342 farmers are registered on Daksh Portal in the district.
Earlier, the Lt Governor interacted with various public delegations and assured them of appropriate action on the genuine demands and issues projected by them.
Dr Arun Kumar Mehta, Chief Secretary; Dheeraj Gupta, Principal Secretary, Forest, Ecology and Environment; Dr Mandeep Kumar Bhandari, Principal Secretary to Lt Governor; Vijay Bidhuri, Divisional Commissioner Kashmir; Sujit Kumar, DIG CKR Srinagar and other senior officers attended the meeting.