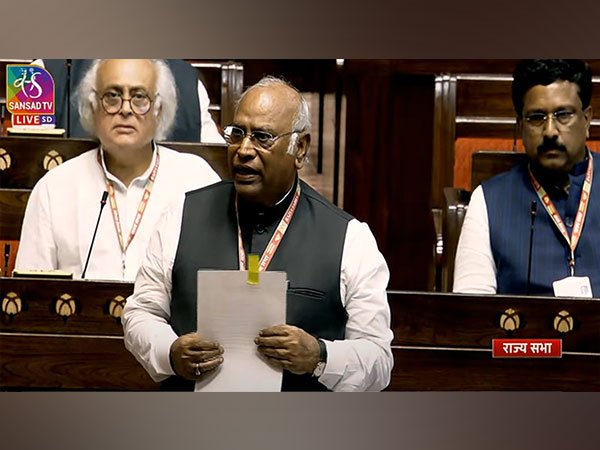 New Delhi : Rajya Sabha in its first sitting in the new Parliament building witnessed sparring between Mallikarjun Kharge and Nirmala Sitharaman after the former's remarks that political parties picked "weak women" as candidates and "won't choose those who're educated and can fight."
"Largely, ladies from backward and scheduled castes are not that literate. Their literacy rate is low, because of which all political parties have a habit of nominating weak women," Kharge who is Leader of Opposition in the Upper House said.
"They (parties) won't choose those who're educated and can fight," the Congress leader said. "I know how backwards and scheduled caste people are chosen by political parties," Kharge said, amid protest from treasury members, who took exception to his remarks.
Kharge was speaking in the Upper House after the Union Law Minister Arjun Ram Meghwal introduced the new Women's Reservation Bill earlier today during the first sitting of the Lok Sabha in the new Parliament complex.
Soon after Kharge's remarks, Finance Minister Nirmala Sitharaman on behalf of her party, the BJP registered a strong protest stating that Kharge's "sweeping statement" was "absolutely unacceptable."
"We respect the leader of the Opposition but to make a sweeping statement that all parties choose women who are not effective is absolutely unacceptable. We all have been empowered by our party, by our Prime Minister. Rashtrapati Droupadi Murmu ji is an empowered woman," Sitharaman said.
Attacking the Congress, she said Kharge's remarks reflect the mindset of the Opposition party, which she said "had women presidents." "In spite of that they can't have women who are empowered. I object to him making a sweeping generalisation of all parties," the Union Finance Minister said.
Responding to Sitharaman, Kharge said, "Women from backward, ST don't get such opportunities which they are getting, this is what we are saying."
Meanwhile, discussions for passing of the Nari Shakti Vandana Adhiniyam Bill in the House will be taken up tomorrow, the third day of the five-day special session. The Bill will be taken up in Rajya Sabha on September 21.
The Women Reservation Bill seeks to guarantee 33 per quota for women in Lok Sabha and state assemblies. Reservation for women in Parliament and Legislative assemblies has been a promise of many parties, including the BJP for years.