Kashmir
Multimedia
Two Juveniles among three Drug peddlers arrested for allegedly molesting school girl in Srinagar: Police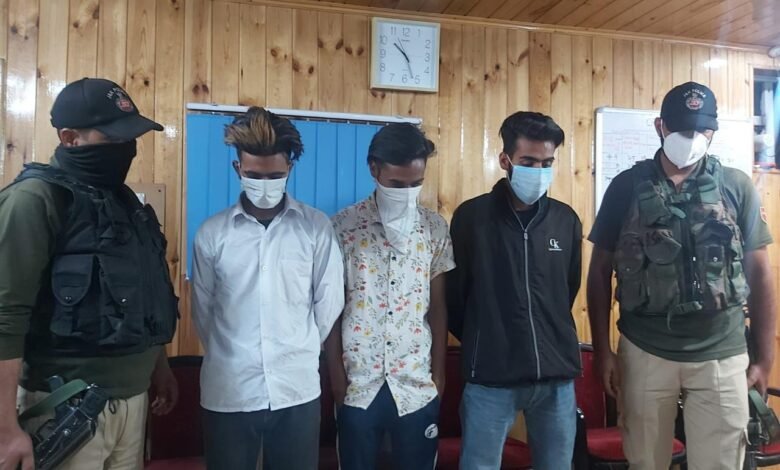 Srinagar, May 20: Police have arrested three persons including two Juveniles for allegedly molesting school girl at Shivpora area of Central Kashmir's Srinagar district.
In a statement issued to GNS, the police said that on the afternoon of 18th May, a group of drug peddlers allegedly tried to molest a school girl ( name withheld ),a student of Kendrya Vidyalya, Shivpora, near Shivpora Bund, while she was on her way to home from school.
The police spokesman further stated that in her attempt to resist the attack from the perpetrators, she raised an alarm which caused the accused to flee from the spot.
Upon receiving the complaint from the family of the victim, Police station RM Bagh lodged a case under FIR no. 46/2022 u/s 341, 509 IPC and investigation was taken up, he said.
After sternous efforts by Police station Ram Munshi Bagh under the supervision of DySP Sleet Shah JKPS,
Three (3) suspects were arrested who were later identified by the victim as well.
They have been identified as Juvenile -1 (17 years Name held) resident of Batwara, Juvenile-2 ( 17 years name held) resident of Batwara and Farhan Shafi Khan @KD (20 years) son of Mohammad Shafi Khan resident of Gandbal, Rajbagh (Adult accused), he said.
They trio was apprehended by police station RamBagh; the adult will be produced before court for further police remand while juveniles have been taken to Observation home, Harwan, reads the statement.(GNS)