Kashmir
Ahead of Gangbal-Harmukh yatra DGP J&K takes aerial view of the area; Interacts with officers to review the security arrangements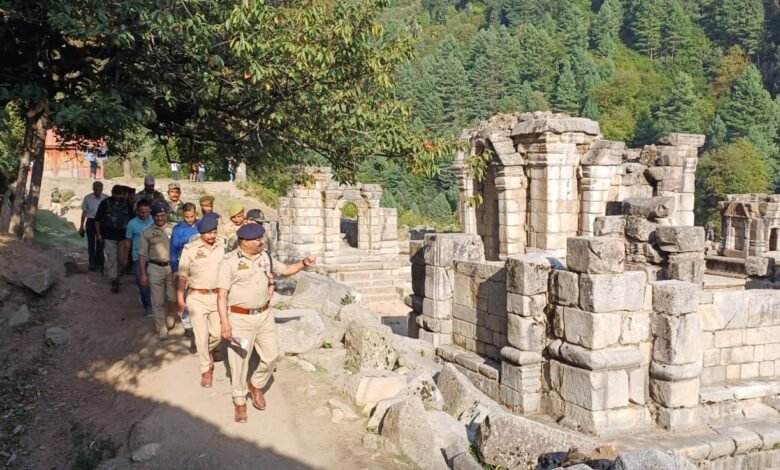 September, 21 Ahead of annual Harmukh-Gangbal Yatra in Ganderbal district the Director General of Police J&K, Dilbag Singh took an aerial view of Gangbal and it's adjoining areas besides visiting Naranag.
The visit was aimed to review the security arrangements for the yatra which is commencing tomorrow. Accompanied by SSP Ganderbal Shri Nikhil Borkar, he also interacted with the jurisdictional officers at Naranag and discussed arrangements put in place for the yatra, besides interacting with the pilgrims. The DGP also paid obeisance at Naranag Temple and Naranag Spring.
During the interaction at Naranag, AIG Tech/Commn Shri Manoj Kumar Pandith, Major 34RR Shri Lavesh Kumar, Addl. SP Ganderbal Shri Aijaz Ahmad Malik, SDPO Kangan Shri Muzaffar Jan, Assistant commandant Shri Gagan Singh of 118 BN CRPF were also present.
While interacting with the officers, the DGP at the very outset sought the detailed reports about the arrangement made. The officers present briefed the DGP regarding the arrangement made for the successful conduct of the yatra.
The DGP emphasized maintaining high level of coordination to conduct the Yatra smoothly and said that strict adherence to security protocols be ensured for the yatra in a desired manner. He directed that all possible assistance should be provided to the yatris.
The DGP instructed the officers to supervise the arrangements personally with proper briefing to the deployed personnel in their respective enroute and base camp.
The DGP also directed to strengthen communication network and real time coordination and dissemination of information. The DGP also reviewed the services provided for smooth and hassle free pilgrimage of yatris.
The DGP also interacted with the pilgrims at Naranag base camp and enquired about the facilities and arrangements available.
Worth to mention that pilgrimage to the Harmukh-Gangbal situated at an elevation of 3570 meters starts annually from Naranag area of Kangan in Ganderbal district. After performing Puja at Naranag temple, devotees set on 15-km journey on foot to Gangabal lake, which is located around 14,500 feet above sea level in the Harmukh mountain range. The pilgrims track to Gangbal via Butchari and Trunkhal. On reaching, sacred puja is performed on the banks of Gangbal lake following which the pilgrims returns the next day.