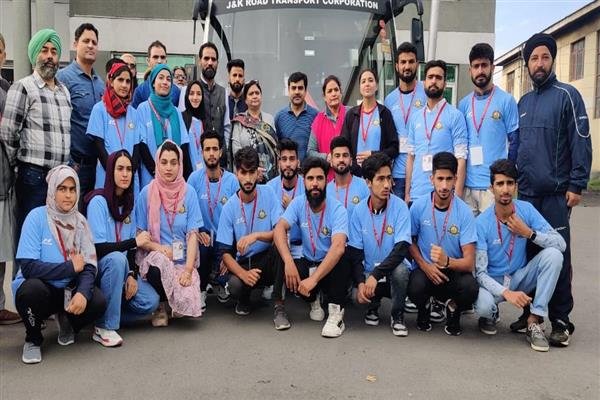 Srinagar, May 23 : Kashmir University Vice-Chancellor Prof Nilofar Khan on Monday flagged-off a Pencak Silat student contingent for their participation in the all-India inter-university championship to be held in University of Jammu from May 24.
18 students, including boys and girls from KU and its affiliated colleges, are participating in the championship under the supervision of varsity's Directorate of Physical Education and Sports (DPES).
Addressing the participants, Prof Nilofar said the University of Kashmir has a robust sports infrastructure and shall endeavour to ensure maximum participation of students in its various sports activities.
She said she was glad to see girl students joining the Pencak Silat championship to demonstrate their unwavering commitment and passion for extracurricular activities.
"It will be our unrelenting effort to provide best possible sports facilities to our students to facilitate their overall personality development," the Vice-Chancellor said.
Registrar Dr Nisar A Mir underlined the initiatives taken by the University for development of sports infrastructure and facilities.
Director DPES Prof Showket A Shah gave a brief overview of the upcoming Pencak Silat Championship. He said the University students in 2019 bagged 11 medals in the Penchak Silat Championship held in GNDJU Amritsar.
On the occasion, the DPES felicitated the Vice-Chancellor and Registrar.
The flag-off ceremony was attended by Chief Proctor Dr Imtiyaz, apart from officials and staff of the DPES.