India
Multimedia
Technology
Judges Are Not Celebrities, Online Platforms Not Paparazzi Who Need To Report All Moments: Justice Sanjay Karol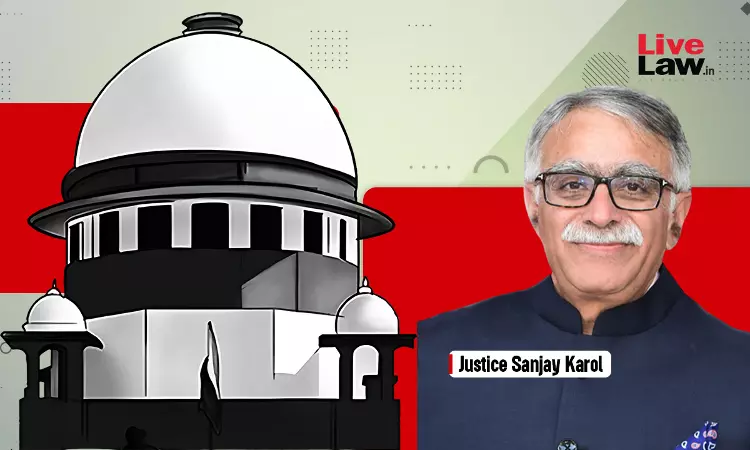 The Bar Council of India International Lawyers' Conference 2023 featured a technical session addressing the impact of social media on the justice delivery system. The two-day international conference features an inaugral ceremony, ten technical sessions aimed at knowledge sharing, and a valedictory session. The theme of the conference is, 'Emerging challenges in Justice Delivery System'. In the session pertaining to the impact of social media, Justice Sanjay Karol, as a co-chair for the session, gave an address in which he stated that judges were not celebrities and online platforms were not paparazzi.
Justice Karol, in his address, emphasized the growing omnipresence of social media. He highlighted the positive contributions of social media in enhancing transparency in the legal system and promoting access to justice while also cautioning against its potential pitfalls.
While talking about the positive impact of social media, he stated that social media platforms had played a vital role in disseminating real-time information about court processes, judgments, and orders. This, he said, had significantly improved public understanding of legal proceedings.
"Social media can be used for imparting relevant information such as holding of lok Adalats, legal aid camps, launch of different camps, schemes ensuring access to justice. Live streaming of our constitution benches has given direct awareness to citizens about deliberations in courts," he stated.
However, Justice Karol cautioned against sensationalizing legal proceedings for "headline-grabbing purposes". He stressed the importance of responsible reporting and avoiding minute-to-minute coverage, considering the sensitive nature of court proceedings. He said–
"Minute to minute reporting of utterances and observations is not appropriate considering the working circumstances. Here, I must emphasise to my friends on social media and electronic media that the judges are not celebrities. And neither are these online platforms paparazzi who need to report on our moments."
Asserting that while the availability of information at the snap of fingers could seem attractive, he underlined that unchecked and unverified information on social media can lead to misinterpretation, fuelling hatred and contributing to media trials. He added that out-of-context clips and oral observations of courtrooms could be made viral to seem that they're the final dictum of the court and on such trials, the public could be swayed. o
"I may say this- we as judges are always open to correct ourselves. You have every right to express your view point on the judgements delivered. However, travelling beyond that is something you need to contemplate," added Justice Karol.
In his address, Justice Karol stated that while social media offers the freedom to express viewpoints on judicial decisions, it was essential to strike a balance and avoid going beyond legitimate criticism. He said–
"The actual need of the hour is to inform media of the restrictions on freedom of speech. Every limb shall to an extent be permitted by the Constitution be free in its own sphere without encroaching on the territory set aside for other agencies."
He also spoke about how the legal profession demanded self discipline and restraint and social media put to test the same. Further, he called for a need for Judges to abide by a code of conduct issued in that regard. He said–
"Only adequate and personalised training could help judges navigate this new environment."
Finally, while concluding his address, he said–
"Digital Media has the freedom to gather and disseminate information to the public about the administration of justice so long as there are adequate checks and balances in form of introspection, self regulation, and restraint. I would not say that there should be a legislation for regulating the social media. It is not always wise to give answers to questions. I'm ending here now by saying we are looking for answers from those young people who are here to the issues which have been highlighted." (Live Law)