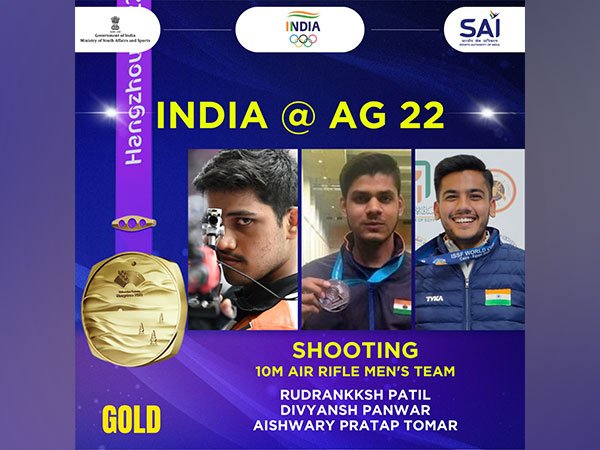 Hangzhou [China]: Team India's shooting trio, Divyansh Panwar, Rudrankksh Patil, and Aishwary Tomar, clinched gold in the men's 10 m air rifle team shooting event at the ongoing Asian Games in Hangzhou on Monday.
Their impressive score of 1893.7 not only secured the top spot but also shattered China's world record of 1893.3 points set in August 2023.
The silver medal was bagged by South Korea, with a total of 1890.1 points.
China fell way behind to secure the bronze with 1888.2 points.
This is India's first gold in the Asian Games Hangzhou.
Shooting their way to the top. First gold for India @RudrankkshP, @DivyanshSinghP7, and Aishwary Pratap Tomar have hit the bullseye and secured the st Gold for India in the 10m Air Rifle Men's Team event at the #AsianGames2022. Their precision and teamwork are simply unmatched. Let's celebrate this golden moment! Super proud of our shooting stars Let's #Cheer4India and celebrate their remarkable achievement #Hallabol #JeetegaBharat #BharatAtAG22," tweeted Sports Authority of India (SAI) Media.
India so far has won seven medals at the ongoing Asian Games, consisting of one gold, three silver, and three bronze.
The shooting events at the Asian Games Hangzhou will be conducted from September 24 to October 1. A total of 33 medal events will be taking place across rifle, pistol and shotgun categories at the Fuyang Yinhu Sports Centre.
Olympian Manu Bhaker and former world champion Rudrankksh are some of the stars of the 33-member Indian contingent.
*Asian Games 2023: Indian Shooting Squad
-Men
10m air rifle: Rudrankksh Patil, Aishwary Pratap Singh Tomar, Divyansh Singh Panwar
50m rifle 3 positions: Aishwary Pratap Singh Tomar, Swapnil Kusale, Akhil Sheoran
10m air pistol: Arjun Singh Cheema, Shiva Narwal, Sarabjot Singh
25m rapid fire pistol: Anish, Vijayveer Sidhu, Adarsh Singh
Skeet: Anantjeet Singh Naruka, Gurjoat Singh Khangura, Angad Vir Singh Bajwa
Trap: Kynan Chenai, Prithviraj Toindaman, Zoravar Singh Sandhu
-Women
10m air rifle: Ashi Chouksey, Mehuli Ghosh, Ramita
50m rifle 3 positions: Sift Kaur Samra, Manini Kaushik, Ashi Chouksey
10m air pistol: Divya TS, Palak, Esha Singh
25m sports pistol: Manu Bhaker, Rhythm Sangwan, Esha Singh
Skeet: Parinaaz Dhaliwal, Ganemat Sekhon, Darshna Rathore
Women's trap: Rajeshwari Kumari, Manisha Keer, Preeti Rajak
-Mixed team
Air rifle: Divyansh Singh Panwar, Ramita, Mehuli Ghosh, Aishwary Pratap Singh Tomar
Air pistol: Sarabjot Singh, Divya TS, Esha Singh, Shiva Narwal
Skeet: Anantjeet Singh Naruka, Parinaaz Dhaliwal, Ganemat Sekhon, Gurjoat Singh Khangura.