Education
Kashmir
Technology
KU VC Prof. Nilofar Khan to preside TEDx event at NIT Srinagar
Such motivational programs are encouraging and will inspire youth: Prof. Sehgal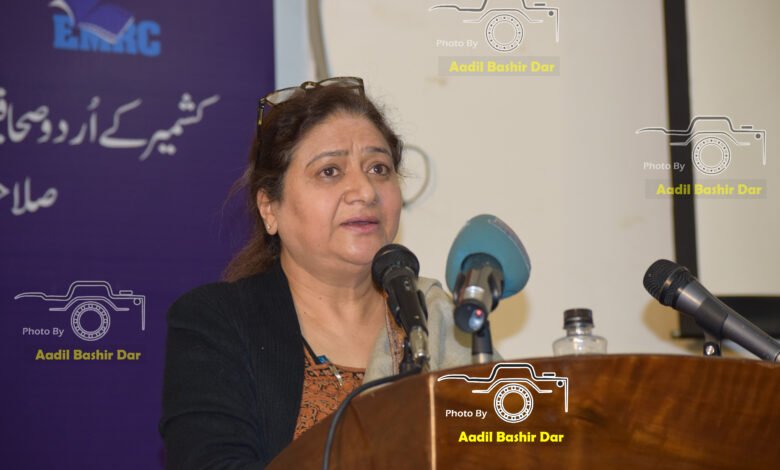 Srinagar, May 26 : The first woman vice-chancellor of University of Kashmir, Prof. Nilofar Khan will be the chief guest of the TEDx event to be held on Saturday at National Institute of Technology (NIT) Srinagar and around 250 noted personalities from across various fields are expected to participate in the mega event.
In the spirit of ideas worth spreading, NIT Srinagar is organizing a TEDx Event bringing brilliant minds from across the country having expertise in their domains will deliver talks on topics that matter and spark deep discussions and connections.
Director NIT Srinagar, Prof. (Dr.) Rakesh Sehgal said that such events inspire the students to accelerate in their careers and are important for all-around development. He said youth are the backbone of any society or a community.
"They are the promising dreamers and future of the region that could be transformed into a tangible accomplishment. Encouraging them with constructive motivation can extend hope and could illuminate their future outlook towards the world," Prof. Sehgal said.
Prof. Syed Kaiser Bukhari, Registrar of the NIT Srinagar said motivation is also one of the key elements for igniting self-determination and self-belief. Enabling young students to recognize failure as a lesson instead of a setback is extremely important. Life itself is vibrant and constantly changing, and comes with its unpredictability, he said.
Recently appointed Vice-Chancellor of the University of Kashmir, Prof Nilofer Khan will be the Chief Guest of the function. The list of other speakers who will share their journeys with the participants includes 1968 batch IAS Officer, Wajahat Habibullah, Former Director, ISRO Propulsion Complex, Dr. Venkitakrishnan PV, Kashmiri noted Hotelier, and Businessman Mushtaq Ahmad Chaya, Famous career influencer Daksh Sethi, Rapper, Singer, and Composer Parry G, Founder and CEO at GAME, Shrishti Sharma, Former Chairman of AICTE, Prof. SS Mantha, Psychology Researcher at Harvard University, Dr. Baland Jalal, Vice Chairman, Central Institute of Hindi, Anil Kumar Sharma Joshi, Kashmiri Educator, Founder of RISE and WISE App, Mubeen Masudi, Head and senior scientist at Division of F&T SKAUST-K Dr. Syed Zameer Hussain, and athlete Rizza Alee.
Dr. Obbu Chandra Sekhar (Head, Training and Placement Department) said that TEDx- event will be graced by the presence of eminent speakers and performers. These speakers from different walks of life ought to motivate, he said.
"We are expecting 250 participants for the mega event and arrangements are being finalized for the same. The event will be held on 28th May 2022 at Convocation Hall of University of Kashmir and it will begin at 10 am," he said.
TEDx is an International Conference hosted every year in major cities around the globe wherein some of the most influential people on our planet share their ideas related to Technology, Education, Design, and literally every other field that exists.
TED also issues licenses to communities, so that they can bring a TED Conference-like event to their cities. These independently organized TED events are called TEDx events. Some selected TEDx videos are uploaded on the TEDx Talks YouTube channel with 32.6 Million Subscribers.