India
Supreme Court Deprecates Lawyers' Strike At Rajasthan HC Jaipur Bench; Issues Notice To Bar Association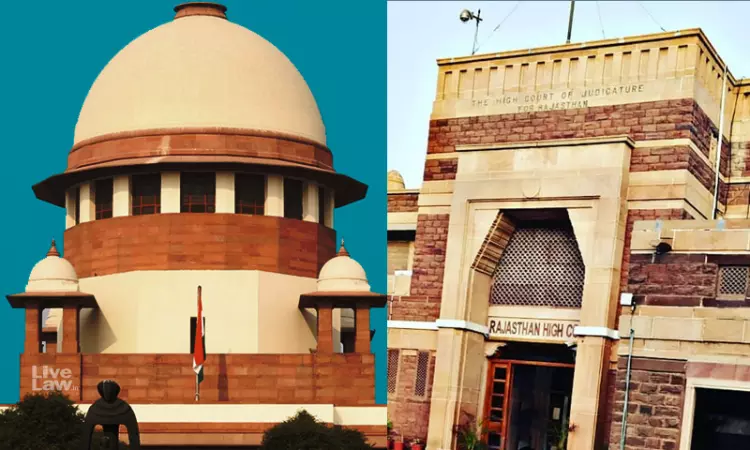 The Rajasthan High Court Bar Association at Jaipur Bench has once again drew the ire of the Supreme Court for indulging in boycott."It is unfortunate that High Court Bar Association at Rajasthan resolved to abstain from the court work and, therefore, the High Court could not get assistance", the Court observed with dismay.
A bench comprising Justices Abhay S Oka and Pankaj Mithal was hearing a special leave petition against an adverse order passed by the High Court due to the non-appearance of advocates due to the lawyers' strike.
Deprecating the Association's conduct, the Supreme Court issued notice to the Association as well as the Bar Council of India on September 27.
"Considering the conduct of the Bar Association, we direct the petitioner to implead the concerned Bar Association of Advocates practicing at Jaipur Bench of the Rajasthan High Court as well as the Bar Council of India as party respondent Nos. 3 and 4 respectively." the bench ordered. The matter will be next heard on November 3.
At this stage, it is important to note that, back in 2021, Rajasthan High Court Bar Association, Jaipur, had tendered 'unconditional & unqualified apology' to the Supreme Court with respect to the contempt proceedings initiated against them for boycotting a bench of the High Court as part of a strike. The Association had also undertaken to not indulge in court boycotts in future.
A Bench comprising Justices MR Shah and Sanjiv Khanna, while accepting the apology, had recorded then as follows :
"In view of the above, unconditional and unqualified apology tendered by office bearers of Bar Association and their statement on affidavit that they shall not go on strike on any ground whatsoever in future or pressurise Chief Justice or any other Judge to change roster of particular judge or Bench and no pressure tactic shall be adopted in future and they will resolve their conflicts by lawful methods, we accept unconditional & unqualified apology tendered & we close the contempt proceedings. Contempt notices are discharged."
Impugned Order
The impugned order in the present case was passed by the High Court in an application under Order 22 Rule 10 CPC (Procedure in case of assignment before final order in suit) was filed. Noting that the non-appearance of counsels is clearly illegal and in breach of the order passed by the Supreme Court in the case of Ex-Captain Harish Uppal Vs. Union of India & Anr., 2003 (2) SCC 45, the High Court allowed the said application without hearing either party.
Pertinently, in Ex-Capt. Harish Uppal vs. Union of India, a three-judge Bench had categorically held that lawyers have no right to go on strike or give a call for boycott, not even on a token strike. The protest, if any is required, can only be by giving press statements, TV interviews, carrying out of Court premises banners and/or placards, wearing black or white or any colour arm bands, peaceful protest marches outside and away from Court premises, going on dharnas or relay fasts etc., the court had said. It was also observed:
"All lawyers must boldly refuse to abide by any call for strike or boycott. No lawyer can be visited with any adverse consequences by the Association or the Council and no threat or coercion of any nature including that of expulsion can be held out."
Similar Orders Passed By The Supreme Court In Lawyer's Strike Row
It may be noted that this month on September 12, a bench comprising Justices Sanjay Kishan Kaul and Sudhanshu Dhulia issued notice to a bar association in Odisha for abstaining from court work for a day citing the death of one of its members. "unfortunate as the incident may be, this cannot bring judicial working to a standstill." The Bench was hearing contempt proceedings initiated against lawyers who had indulged in vandalism in court premises during their strike in Odisha last year.
Further, on September 14, the Allahabad High Court pursuant to the strike by lawyers with respect to the Hapur Incident suggested that the erring officers and bureaucrats, must be called to Court to justify their actions.
In another order, while hearing a public interest litigation owing to the continuous strike by the Kanpur Bar Association and the Lawyers' Association, Kanpur, Allahabad High Court framed Contempt charges against office bearers of the Kanpur Bar Associations and Lawyers' Association Kanpur Nagar for continuing their strike despite the High Court's order (to refrain from boycotting district courts).
It may also be recalled that recently the Supreme Court Bench of Justices Sanjay Kishan Kaul and Sudhanshu Dhulia, while asking the Bar Council of India (BCI) to file an affidavit setting forth what action has been taken when bar associations have called for strike in the last one year, also noted:
"When abstention of work takes place, it becomes very difficult for the courts to accommodate. These are practical problems…when you stop the working of the courts, that is something not acceptable."
In April 2023, the Supreme Court had directed all High Courts to constitute grievance redressal cells through which the advocates can raise their issues without resorting to strikes. (Live Law)