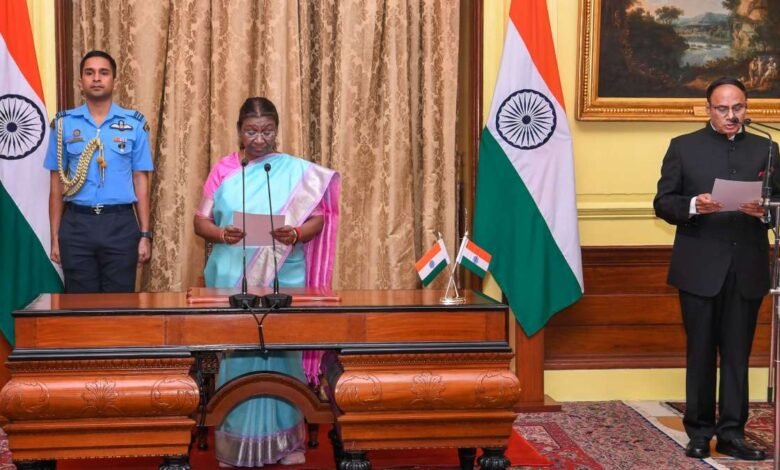 Information Officer Heeralal Samariya was sworn in as the Chief of the Central Information Commission (CIC) on Monday, making him the first Dalit person to hold the post.
President Draupadi Murmu administered the oath of office to Samariya at a function at Rashtrapati Bhavan here, officials said.
Born in a remote and small village Pahadi in Rajasthan's Bharatpur District, the former IAS officer served as Secretary in the Ministry of Labour and Employment. He was also a Joint Secretary in the Ministry of Chemical and Fertilizers.
After the term of YK Sinha ended on October 3, the top post of the CIC had been lying vacant.
The appointment comes after the Supreme Court had on October 30 directed the Centre and the State governments to take steps to fill the vacancies in the Central Information Commission and State Information Commissions (SICs).
A bench of Chief Justice of India DY Chandrachud and Justices JB Pardiwala and Manoj Misra observed that the 2005 law on the Right to Information (RTI) will become a "dead letter" if vacancies are not filled.
It further asked the Department of Personnel and Training (DoPT) to collect information from all States on several aspects including the sanctioned strength of SICs, vacancies and the total number of pending cases there.
The Central Information Commission has been constituted with effect from October 12, 2005, under the Right to Information Act, 2005 for adjudication in the second appeal for giving information; direction for record keeping, suo motu disclosures receiving and enquiring into a complaint on inability to file RTI etc; imposition of penalties and Monitoring and Reporting including preparation of an Annual Report.
The jurisdiction of the Commission extends over all Central Public Authorities.