Kashmir
Police organises Thana Diwas at various police establishments in Ganderbal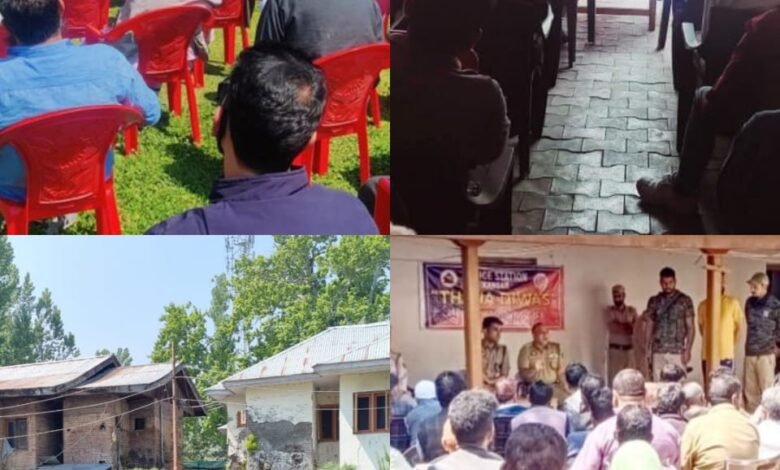 April 30: As a part of public outreach programme and an initiative by Government of J&K, Police in Ganderbal organized 'Thana Diwas' at various Police establishments across the District.
The Programmes were chaired by DySP Hqrs Ganderbal Shri Ghulam Hassan-JKPS and SDPO Kangan Shri Yasir Qadri-JKPS in their respective subdivisions under the directions of SSP Ganderbal Shri Nikhil Borkar-IPS. These meetings were also attended by Executive Magistrates, DDCs, BDCs, Sarpanchs and Panchs. Besides, all SHOs of concerned Police Stations, other officers and officials were also present on the occasions.
In these events, the participants highlighted various issues of public importance and they were assured that their genuine grievances pertaining to Police will be resolved on priority and that of civil administration will be taken up with the concerned departments for their early redressal.
On the occasions, the chairing officers stated that policing at grass-root level in the district would be revamped to enhance proficiencies of the cops and to develop confidence among the people. They added that Thana Diwas is an initiative started by the Government of J&K to bridge the gap between Police and Public and also to hear and redress the grievances of common masses and further added that Community policing is mandatory to boost public confidence which would help in fighting against crime and social evils.
Referring to the criminal activities in the respective areas, it was stressed upon the officers to brace up with a missionary spirit to fight against drug abuse and eradicate other social evils from the society and to take a pledge to serve the society with missionary spirit and maintain the dignity of force. The participants were requested to co-operate with Police in maintaining Law and order in the area and identifying anti-national and anti-social elements who always try to disrupt the peaceful environment.