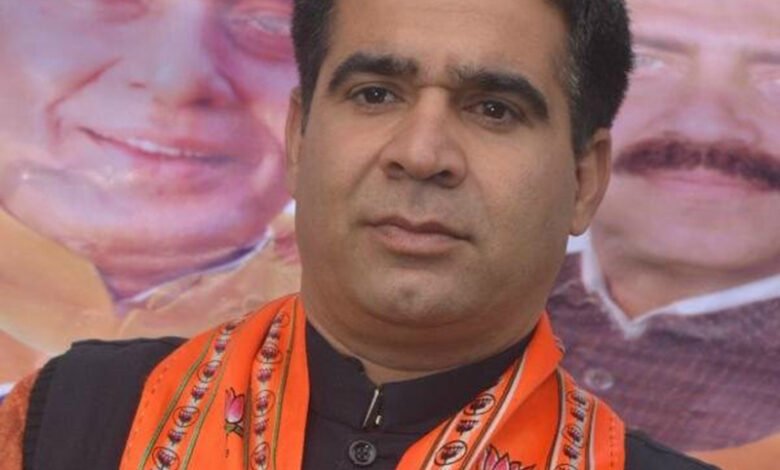 Jammu: Former legislator, Ravinder Raina on Saturday said that Bharatiya Janata Party (BJP has become the main political party of Jammu & Kashmir.
BJP's J&K unit held a meeting of its State Office Bearers on the 1st day of 2-day State Working Committee at Late Vaid Vishnu Dutt Sabhagaar at BJP Headquarter, Trikuta Nagar, Jammu.
According to the news agency—Kashmir News Observer (KNO), J&K BJP President Ravinder Raina chaired the meeting while Jugal Kishore Sharma (MP), Sat Sharma (former Minister), former Deputy CM Kavinder Gupta, General Secretary (Org.) Ashok Koul and State Office Bearers of the party were present in the meeting.
Ravinder Raina in his presidential address appreciated the dedicated efforts of BJP activists from J&K in making the BJP as the main political party of J&K.
He said that in every election held in previous years in the region be it DDC, Sarpanch, Urban Local Bodies or any other election, BJP has emerged as the strongest political party.
He said that with the ever growing faith in Prime Minister Narendra Modi led leadership every prominent political and social activist is joining the party and the time has come when BJP will form its government in J&K on its own in the upcoming Assembly elections.
Jugal Kishore Sharma spoke on the important works of BJP for the Nation and society while he also summed up the issues taken up in the meeting.
Ashok Koul provided the outline of various sessions to be conducted in the 2-day meeting. He also provided detailed insight on various forthcoming party programmes.
Sat Sharma, Priya Sethi and RS Pathania presented political, social and economical statements in the meeting on which brief discussions were also held.
General Secretary Sunil Sharma conducted the meeting proceedings and presented the note of thanks.
Earlier meeting commenced with the lighting of Traditional Lamp and recitation of Vande Mataram by Dr. Pardeep Mahotra. Minutes of last meetings were read by Tilak Raj Gupta. Meeting concluded with the recitation of the National Anthem—(KNO)